Shrinath Ji is a form of Krishna, manifested as a seven-year-old child (Balak). The principal shrine of Shrinathji is the Shrinathji Temple in the temple town of Nathdwara, 48 kilometres north-east of Udaipur city in Rajasthan.
The inner sanctum is opened 8 times a day for the devotees undertake sacred "darshan" of the deity.
The main attractions of Shrinath Ji Darshan are various Shringar, i.e. the dressing and beautifying of the idol of Shrinathji, treating it as a living child, adorning it with the appropriate dresses commensurate with the time of day or night.
Following are the 8 daily Shrinath Ji Darshans:
Mangla Darshan
This is the first Jhanki of the day and in winter it takes place before the sunrise while in summer, it is later. In summer he wears a Dhoti while in winter he wears a Coat. Arati is offered and this darshan is dedicated to the memory of Parmanandji (Poet).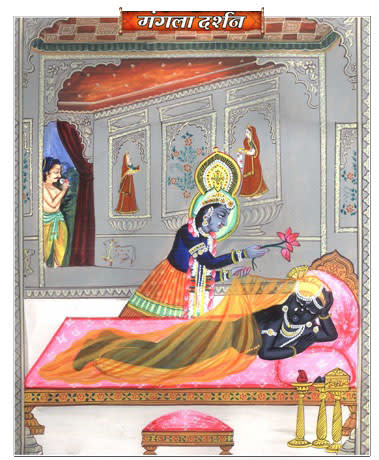 Shringar Darshan
An hour after Mangla is the next darshan where Shrinathji is well dressed with a mala of flowers. He is then shown in the mirror and a flute is placed in his hand. He is supposed to play with the children during this time. Dry fruit is offered to Shrinathji and his dress varies according to season and festival. The songs are sung by the poet Nandadas.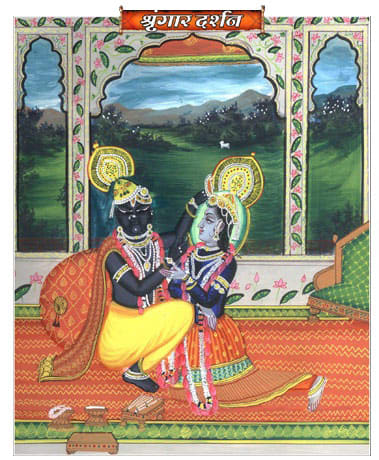 Gval Darshan
This is the third Jhanki when Shrinathji takes his cows to the field. During this darshan Dhoop Deep is performed. The singer in this Jhanki reminds about the singer, Shri Govind swami, Kheer and Rabdi is offered to Shrinathji.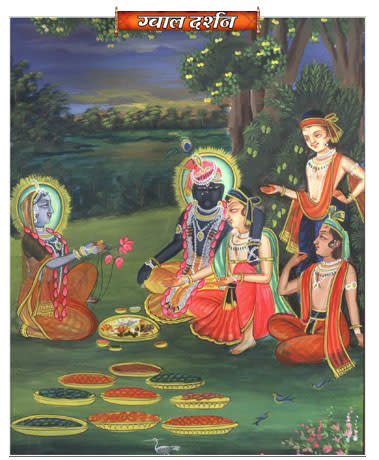 Rajbhog Darshan
The main darshan of the day is Rajbhog. Shrinathji is well dressed and served with most delicious and nutritious food. An Aarti is performed. The Kirtankar is poet Khumbhandas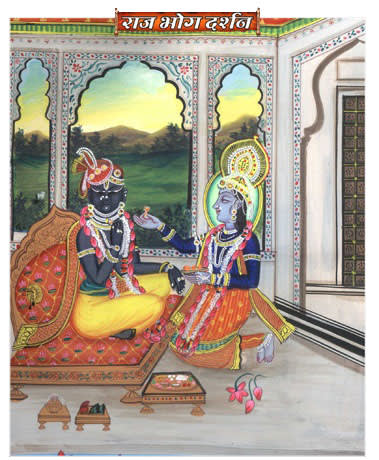 Uthapan Darshan
At about 3 p.m. Shrinathji awakes after his noon sleep. Vina is played and Kirtankar is supposed to, be Surdasji.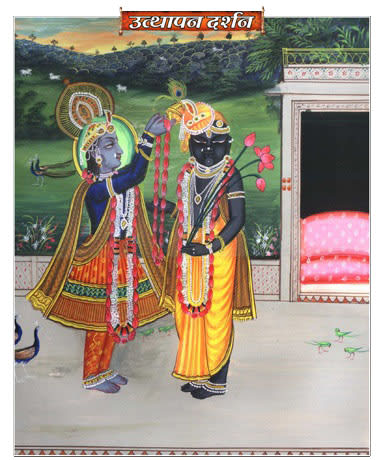 Bhog Darshan
During this darshan, Shrinathji is offered fruits and light meal. Shrinathji holds conferences with other Gods & Goddesses and one should ask to shrinathji and request him to fulfill the desires. It is in this Darshan one will find Chadidar who is the guard. The kirtankar in this Jhakhi is Chaturbhujadas. Dhruv Bari is the place where one can request lord to fulfill his wishes.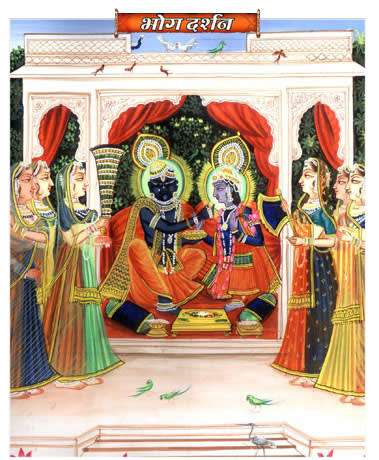 Sandhya Arti Darshan
This seventh Jhanki is at dusk when the Lord used to bring his cows back to home. The kirtankar is supposed to be Chitarswami. Evening Arti is performed.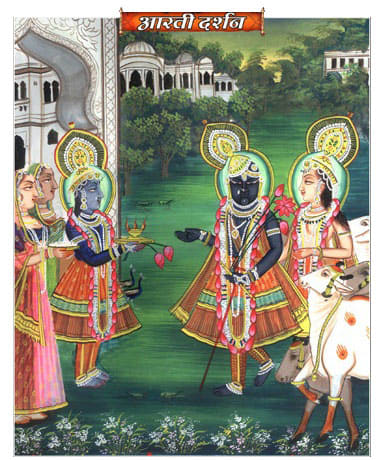 Shyan Darshan
This is the last Jhanki which emphasis for Shrinathji to retire for the night. An arti is performed. This darshan is usually held for six months. Thakurji is offered paan. The kirtankar is supposed to be krishnadas.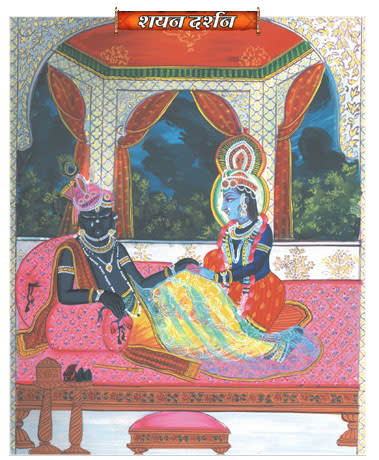 We hope this article helps you in planning your next Shrinath Ji Darshan.
May the blesings of Shrinath Ji be showered on everyone. You can also check out Artlivo's collection of Krishna Decor here.